TRENDING IN INTERIOR DESIGN: AN AVIAN INFLUENCE
It's no secret that nature finds a way into interior design. From lions and tigers to birds, (oh my). Today in design, birds are incredibly popular in a multitude of ways. Let's take a look at how our feathery friends have migrated into our homes.
Wall Art
We are pleasantly surprised by how popular birds have been in wall art this past year! For instance, the great blue heron has easily become a staple on our showroom floor. Customers and designers alike can't get enough of its majestic stature and regal gaze. In fact, we've even had a client custom order a bird piece in 55" x 80" for above her fireplace mantle. We'd say that would be the definition of a statement piece!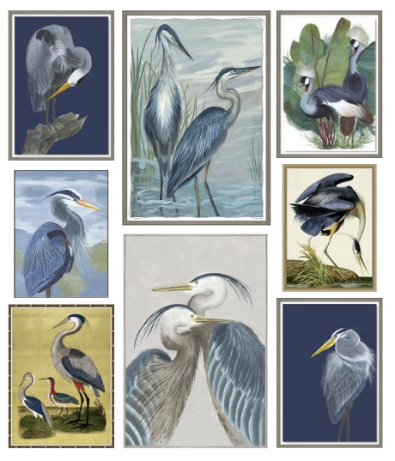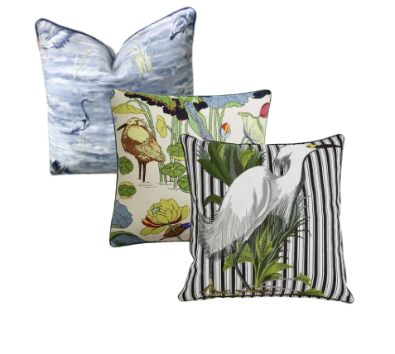 Pillows
From hummingbirds to herons, these colorful creatures are finding their way onto fabrics as well. We love these bright patterns that are perfect for a palm beach style, or just brightening up neutral bedding and sofas.
Accessories & Lighting
Ceramic sculptures are an easy way to add style to a bookcase or coktail table. These gorgeous white bird sculptures are a timeless accent to any living space and for any style, be it monochromatic modern or transitional. Avian accents are even lighting up our rooms today with whimsical bird table lamps. These modern pieces are fun and eye catching!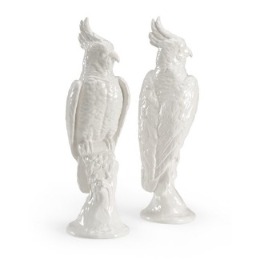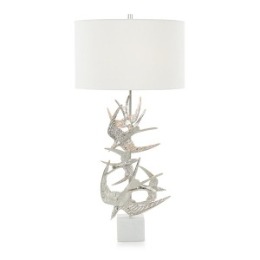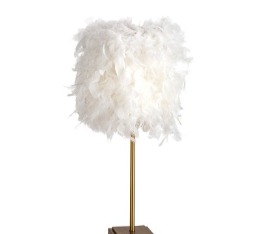 Walls & Windows
How could we forget wall and window treatments? Of course, wallpaper and draperies aren't new and have been done since China's Quin Dynasty and 15th century Europe. To the right is an example of an 18th century Georgian chinoiserie wallpaper. Below are examples from our high-end wallpaper and fabric vendors. As you can see, both are similarly filled with nature and birds! This trend today is a statement piece itself.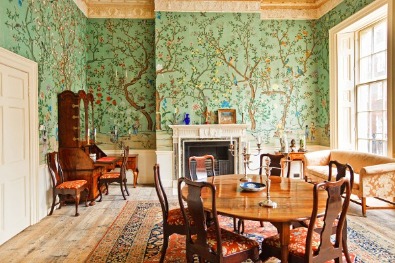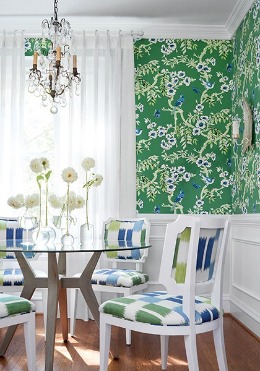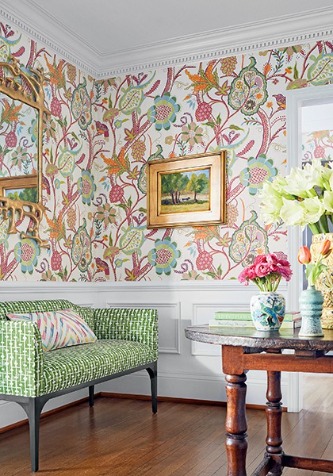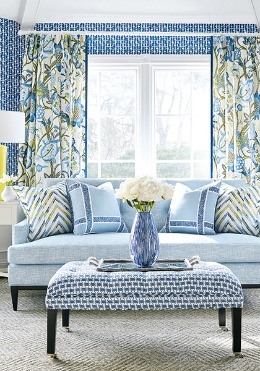 We would be remiss without paying tribute to John James Audubon for his famous educational illustrations that are so popular today, and continue to be some of our best sellers. We think avian accents are here to stay. What do you think of this design trend? Is it fun or too whimsical for you? We'd love to hear from you or see your Patrick Day wall art bird pieces! Tag us in a photo on our Instagram @patrickdayhome and show us how you've celebrated the trend. We look forward to hearing from you.
About PDHG
Patrick Day Home Gallery offers carefully curated collections of medium to high-end furniture from the country's top manufacturers. Located in Palm Beach County for 33 years, Patrick Day occupies a 10,000 square foot showroom and interior design center, carrying a large selection of unique, one-of-a-kind pieces sure to enhance your living space. Whether you seek contemporary accessories or traditional furnishings, Patrick Day carries a large selection of pieces designed to cater to a variety of personal styles. Browse our collection of accessories and furniture to find pillows, wall art, mirrors, floral arrangements, table lamps, area rugs, end tables, occasional chairs, sofas, cocktail tables, nightstands, consoles, Asian antiques and more. Want to see our selection of immediately available décor and furniture up close? Visit our showroom in Jupiter, FL on West Indiantown Road today!