trend alert: geode decor, AGATE GALORE
Geodes and natural stone décor have no doubt gained popularity in recent years. Whether it be because people are craving a connection to the natural world or because of their aesthetically pleasing patterns, it's no secret that geodes are trending in interior design. Let's take a deeper look into this and check out some examples of pieces that are popular right now.
Agate Handles We Love
The Mercia Credenza is one of the best examples that exhibit the geode craze. This piece features pulls of pure agate! Upon closer look, you'll see that the nature of this stone is very distinctive, and no two will be the same. The pattern and color of the grain will differ on each piece, which is the beauty of this natural stone. We think these agate handles are a gorgeous way to demonstrate the trend. This piece is also available as a console and as an armoire.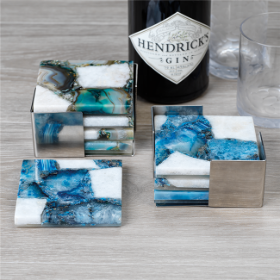 Unique & Functional
Wow. These Crete agate coasters have been flying off the shelves, confirming that customers and designers alike love the trend. The colorful, naturally occurring patterns of blue and aqua within the stone make for a perfect coaster in a coastal setting.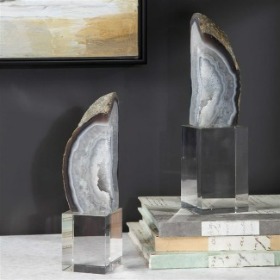 Bookends and Fresh Beginnings
The Amiya bookends are another example of how the agate trend continues in interior design. This set of two bookends feature thick, gray stone with raw unfinished edges set atop clear crystal cube bases. These bookends would be perfect in a contemporary or transitional living room or office.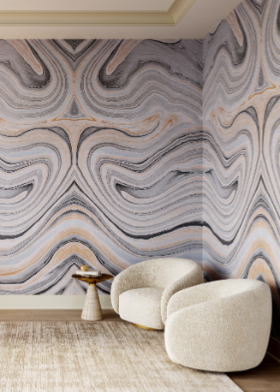 From Floor to Ceiling
Talk about a gorgeous wall treatment! Yes, even high-end wallpaper options now include a geode-influenced option, with colorful lines rippling through a current. This wallpaper would be stunning as an accent wall in a bedroom or gorgeous as a dramatic bathroom.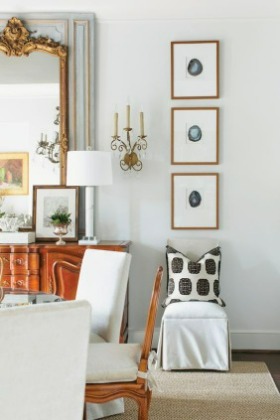 Geode Inspired Wall Art
Ready to modernize your traditional space? Geode-inspired wall art will effortlessly transform traditional to transitional. The clean lines of the gold frame and abstract pattern of the natural stone tone down the traditional style and add a touch of contemporary to the space.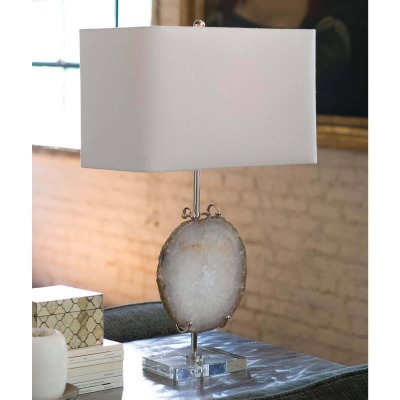 Brazilian Agate Slice Table Lamp
This piece's clear crystal base with its nickel finished stem balances a hand-selected natural Brazilian agate slice. A rare piece, not found anywhere else, becomes even more beautiful when illuminated by the light. This is a minimalistic table lamp that can certainly fit into any design style while showing off the beauty of the stone.
From accessories and lighting to wall treatments and artwork, geodes are influencing design. We certainly are loving the agate craze and we look forward to seeing what other natural elements trend in interior design. Have you incorporated agate into any of your living spaces? Email us at designteam@patrickdayhome.com or connect with us on Instagram @patrickdayhome to let us know. We'd love to hear from you!