Create A Focal Point With Wall Art
"Art is very personal and should inspire and evoke emotion. Art should be something you personally relate to and feel." -Jim Mabrey
The first step in selecting art is surveying what kind of wall "real estate" you have. Selecting the size of wall art is particularly important because if it's too small, it will struggle to make an impression and if it's too large, it will distract the eye. By finding the right balance in wall to art size, you'll achieve the goal of creating a focal point.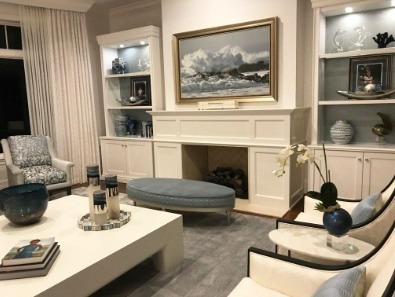 With a large wall, consider large-scale art that will make an impact without being overwhelming. If you're interested in selecting one gorgeous large-scale piece, usually it shouldn't be bigger than the piece of furniture below it. There are however always exceptions. The bottom of the frame should be four to eight inches above the furniture piece, as the furniture and art ultimately need to be "married" to each other. and allow the bottom of the frame to be 8-10 inches above a furniture piece.
Another option is a gallery wall where individual pieces are gathered together to create one stunning arrangement. If a gallery wall is something you're interested in, be sure to select pieces that compliment one another in colors and styles. This is where you can let your personality shine and get creative in your space. Let your eye tell you what "looks right".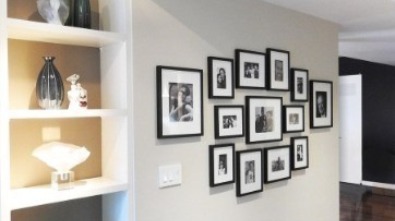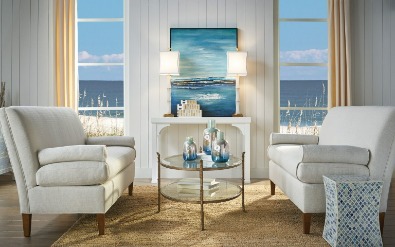 Art that you love can be the finishing touch that brings everything together and makes the space feel complete. Patrick Day Home Gallery has hundreds of wall art options, with everything from coastal, landscape and abstract prints to antique Bali oil paintings.
Shop our showroom floor and leave with art the same day! We are open Monday-Friday 10AM-5PM and Saturday 10AM-4PM. Feel free to send us an email at designteam@patrickdayhome.com or call us at 561-748-0282 with any questions. We have an incredible amount of new art inventory and look forward to helping you finalize this finishing touch in your home!