The 5 Necessities of a Bedroom
Your bedroom is your personal sanctuary where you should feel most comfortable at the end of a long day. It's the first thing you see in the morning and the last thing you see at night. Of all the rooms in your home, this is where your personality should shine and you can feel most relaxed. Let your bedroom be a real getaway. You may be asking, "where do I begin?" Here are our 5 tips to help you style your bedroom and make it feel effortlessly you.


FURNITURE
Before you get to the fun part of selecting throw pillows, table lamps and wall art, the furniture is the most important part of the bedroom. Whether your bedroom is lacking in square footage or has an abundance of space, bedroom furniture comes in a variety of sizes and can accommodate your needs. The last thing you want in your relaxing space is clutter and clothes visible, so ensure you have enough storage. Nightstands with drawers help to hide those cough drops and hand lotions, while dressers and chests conceal clothing. A bench at the end of the bed is perfect for storing throw pillows at night and putting on your shoes in the morning.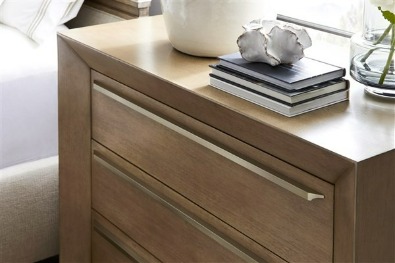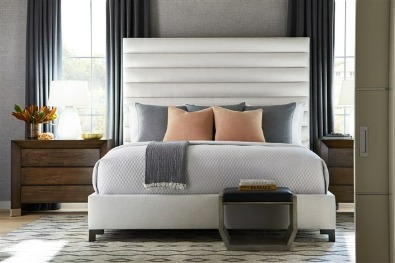 WINDOW TREATMENTS
A well dressed window will help to frame the view and add a softness to the bedroom. Window treatments are a must for this space and provide privacy while filtering light. We have a multitude of different window treatment options, with everything from sheer blinds that can be operated with a remote control, to custom drapes and valances to elevate your space. We recommend utilizing a light-blocking drape to block early morning light and will ensure the best night's sleep.
COLOR

What speaks to you and your personal style choice? Do you dream of a spa-like sanctuary with clean white linens and soothing shades of blue, or maybe a glam look with daring contrasts and gold accents? Whatever feel you're looking for, be sure to make the colors cohesive. We recommend going with a neutral wall color for the bedroom and bringing in color with accessories. For example, oranges and reds create excitement, where as blues and greys create a calming effect. Ensure the wall color create a relaxing space in your bedroom sanctuary. From the walls to the bedding, our expert designers can provide a color-consultation to make sure your bedroom colors match your style.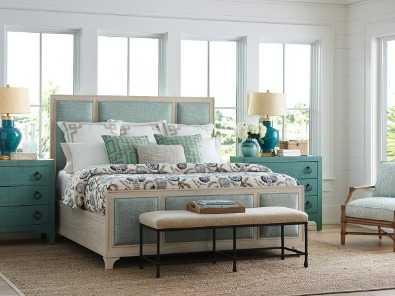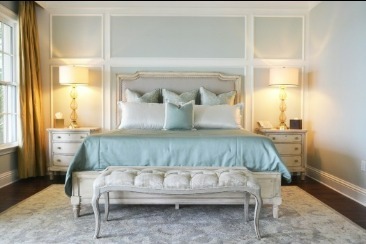 LIGHTING

Layering light in a bedroom is important in creating a relaxing space. Table lamps are perfect for focusing light for reading, while ceiling chandeliers add a touch of elegance, and accent lights illuminate the walls with a soft glow. We recommend a bedroom include a chandelier, a table lamp for each nightstand, and a floor lamp next to an accent chair for the perfect reading space. We offer many lighting options that will fit your needs.
DECOR
Last but not least! Not only do accessories complete a room but they add a personal touch. We recommend hanging a large piece of wall art above the headboard of your king bed, utilizing throw pillows that accentuate an accent color of choice, and include a gorgeous area rug that will bring it all together. Our expert designers can not only help you choose everything from area rugs, throw pillows and bedding, but they can also help you to completely customize gorgeous pillows and comforters from scratch. Remember, don't clutter, just include some of your favorite accessories on table tops!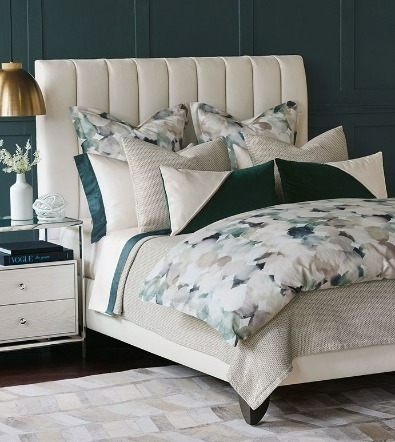 Trust us, you'll never want to leave your bedroom after including these 5 design steps. Contact us via email at designteam@patrickdayhome.com or call us at (561) 748-0282 to set up a complimentary design-consultation in your home. We look forward to helping you create the sanctuary of your dreams!